MineARC has been providing ChemSAFESafe Haven and Shelter-in-Place solutions to the petrochemicals, refining and power generation industries for almost 10 years. Emergency response requirement differ depending on a site's processing conditions, location of personnel, dangerous goods inventory, and other important factors.
MineARC ChemSAFE solutions offer a safe and secure 'go-to' area for multiple personnel in the vent of a toxic chemical release, fire, explosion, or other hazardous emergency response scenario. The range includes fully transportable Safe Havens as well as "Shelter-in-Place' Room Conversions and Sealed Rooms with purpose-built life support system.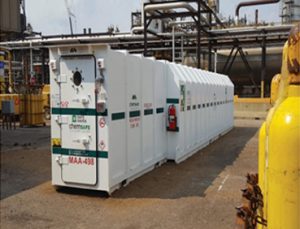 To be classified as a safe haven, a refuge must
Be sealed, enclosed environment with 0% air change per hour (ACH).
Provide a source of clean, breathable air by removing carbon monoxide and carbon dioxide from the internal atmosphere and adding in medical grade oxygen
Control the internal environment through heating and cooling.
Have a back-up supply of power to support the internal systems if main power is lost.
Exclusive to MineARC, iVAN (Intelligent Voice Audio Navigation) represents a breakthrough in safe-refuge technology. iVAN is an on-board navigation assistant that guides occupants through operational procedures.
Apart from the above,MineARC Automated Oxygen Delivery System (AODS) is designed to maintain a safe breathable atmosphere within the Safe Haven.
The AODS disperses metered amount of oxygen supplied by a compressed oxygen cylinder. The AODS maintains oxygen level between 18.3% and 23% inside the safe haven when the external fresh air supply has been compromised or is unavailable.