Working on difficult construction sites is tough for the workers. An uneven, unsteady land is not only difficult to work with heavy machinery but also risky for the workers. To solve these construction issues, composite mats are introduced to the market which solves all these hazards and offers amazing benefits. These mats are capable to tolerate heavyweight and work wonderfully as a construction base. Composite mats include various factors which make the mat an affordable option to use on construction sites. To know how a mat can improve site access and reduce your project cost, continue your reading—
Composite mats are great to use as different matting:
The main material which is used in the manufacturing process of these mats is High-Density Polyethylene. This material is hard and creates a stable, durable base for all types of construction. A premium quality mat can be used in different types of applications, like—
Access ways for extreme soft pathways.   
Temporary roadways in remote construction sites.
The base for heavy tools.
Soil protection for the sensitive area.
Working platforms for different projects.
It keeps the entire team and tools safe:
An uneven land is tough and dangerous to work with a construction team and heavy tools. The base will not support any heavy tool. An unsteady plot slows the work progress and increases the risk for the workers. You can use a composite mat that is stable enough to be used as a temporary road, a base for placing construction tools, and use as a base. These mats are flexible to move, carry and reuse. By using these mats, you can reduce risks on your site in many ways. Heavy vehicles often slip on a muddy road; however, a composite mat can prevent that.
It has optimum ROI: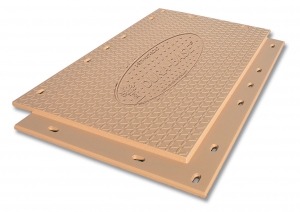 Wooden mats are not as durable as composite mats. These mats are durable and washable. You can use it multiple times for different projects. The mat doesn't get damaged due to extreme weather and moisture. While you cannot reuse wooden bases repeated times, these mats are reusable. Wooden mats soak moisture, the damage quickly, unable to wash with water. If you use these mats you have to buy wooden mats regular basis, however, composite mats are durable than wooden mats.
At MACO Corporation, Newpark DURA-BASE Advanced Composite Mats are available at an affordable rate. Visit our website or mail us your enquiry at info@macocorporation.com