Rig mats are a kind of artificial platform. These are used at the time of construction or oil drilling. These mats are portable and strong enough to carry heavy machines and vehicles. These mats can be used as helipads, placing oil tanks, etc. These mats are used as a structural path where you have to create a passage over unstable ground. Let's get into the topic to know what are the drilling rig mats and why these are extremely helpful—
Providing a safe work site for the workers:
Working on wetlands and ice lands is tough. Mining companies that work on such lands prefer to use a drill rig mat for safety. These are stable to work and keep the workers and machines in a safe zone too. These mats are like composite mats and can be used as a temporary road to carry vehicles and construction materials.
Steel, wood, or composite which material is best to use in rig mats?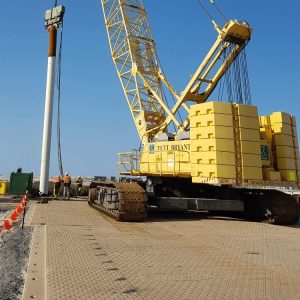 Steel, wood, and composite are the three types of manufacturing materials for rig mats. While wooden mats are lightweight  and easy to carry than steel mats, wooden mats are less durable than the other two options.
When it comes to strength. Composite mats are no less than steel mats. Steel mats are heavy and less flexible than composite mats. Rubber or composite mats can be used to create roads and as a base for heavy machines are more.
Wooden mats are cheap, however, need regular care and maintenance. Steel mats are more expensive than wooden mats, however, not flexible, heavy to carry, and are more durable than wooden mats. In comparison, composite mats are the best ones in the market. These are durable, strong, durable, flexible, and easy to clean. For the amazing benefits of rubber or composite mats, a maximum number of giant companies are using the mats.
Why rig mats are used?
A company uses rig mats for multiple reasons. Here are some of the common reasons—
These support extreme drilling when the ground is unstable.
Create a stable, even work site where the terrain will not be an issue.
For every business, supporting nature and not disturbing nature should be the top priority. By using the rig mat, these companies can stay away from affecting nature. The contaminates that come out from the work site don't get a chance to mix in the ground for the mat.
A rig mat is best to use when the base is not strong to walk or carry machines. These mats can be used as temporary roads too.
Looking for the best construction mats? Your search may end at Maco. It is a reliable seller of composite mats that can assist your business in many ways.